This had originated in
'17 FFE Dead 12Volt battery
thread. Apparently I have more than simply a dead 12V battery so I started a separate thread here if anyone cares to follow along.
Thursday 5/18/17 a little before 4pm, my '14 FFE sent me a text that the 12V was low. It's annoying that the text is always too late. No lights or anything would come on when the door was opened with a couple minutes of getting the text. The battery measured 7V. I jump started it and went on my way to dinner. As soon as I pulled out of the driveway the traction control would kick in every time I slightly turned the wheel. I headed straight to the dealer on my way I got this error on the dash and the traction control turned itself off.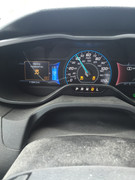 I was happy it turned it's self off because it would pull the steering wheel to one side or the other. Being in traffic I would have been pissed if it caused me to turn into another car. The dealer thinks my battery is dead and they were going to take care of the door latch recall too. I'm just wondering if the abs/traction control module is going bad and that's what killed my 12V battery? My car was charged last Saturday and driven a few mile Sunday and has been sitting unused all week until today. They gave me a free rental and I was told I should have my car back Friday nite.
Friday 5/19: I got an update from the dealer that "a module is drawing down the 12v" They're still doing diagnostics I assume to figure out which module. or maybe why. I'm gonna take a wild guess that its the ABS module going south. The 12V battery is in good health. I should hear something Monday...
Tuesday 5/23: Another update from the dealer, "We can't figure out what's wrong and have tried several things Ford has suggested with no success. Keep the rental car until we have this figured out."