We all know that Ford is really striving to be a green-all-the-way-around type of company, and much of the Ford Focus Electric plastics are partially or completely made from recycled plastics. The seats are no exception, except Ford went one step further.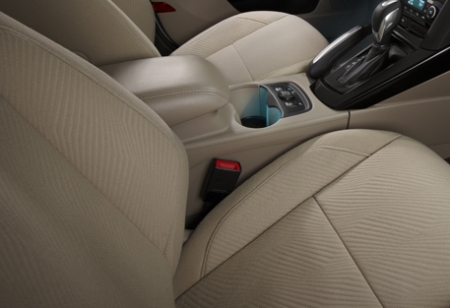 Ford has announced that the Ford Focus Electric seats will use a fabric called Repreve. The fabric is made from a polyester fiber that consists of a blend of recycled materials and post-industrial waste.
Repreve is manufactured by Unifi, a global leader in sustainable textile solutions. Approximately 22 plastic half litre bottles are used on the Ford Focus Electric seats.
Carl Kordich, lead designer of Sustainable Materials for Ford: "Not only does the use of this fabric in the Focus Electric help reduce waste, it also helps to offset the need to produce new raw material from crude oil."
In 2009, Ford mandated fabric suppliers use a minimum of 25% recycled content. Ford is planning to use Repreve across its entire product line in the near future.