So I charged the 12V overnite unhooked from the car. And performed another draw down test. 1.32A. I didn't have time to see if the BECM was still the culprit. So I hooked the 12V back up and when I got in to go to work, I got the yellow wrench and battery depleted message shown below.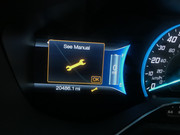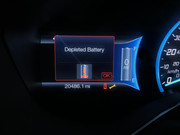 Car had been parked a few days earlier with a 77% charge. I couldn't get a green ready to drive indicator
So I plugged it in to charge and the car indicated it would take 4.6 hours to charge!
45 minutes later I get a charge complete text message and observe a 100% charge with the battery showing yellow and 1 mi indicated range on my phone. Going to read the DTCs at lunch and see if I can get her to drive.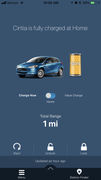 update: There was a boat load of DTCs all related to low 12V or lost communication (probably due to low 12v.) Nothing specific about the HV battery and no errors from the BECM. The car started and I could drive it but it was not happy at first. Started out with 1 mi on the GOM and just slowly went up from there as I drove. It got up into the 40's before it stopped rising. I took the pic below as it was rising.