So I fixed my lack of TPMS sensors. For anyone that's curious you can choose "Without monitoring system" to completely disable TPMS or you can choose "Deflation Detection System" which supposedly looks at the ABS sensor counts and will trigger a fault when one wheel start spinning faster because the tire is flat. I do not know if this works but it is what I have mine set to and I do not get a pesky TPMS error because my new wheels have no sensors.
I got rid of the Volvo center caps. I wouldn't want someone to confuse my FFE for a Volvo!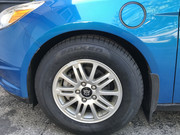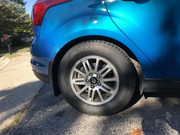 I also found some nice Ford logo centercap logos from aliexpress which I'm certain are fully licensed Chinese Ford emblems. <sarcasm> Same place I got the Autobot logos that were practically free. The Ford blue looks a bit off because of the poor lighting but they do actually look very nice. I'll put them on when the Autobot logos fall apart or I get bored of them.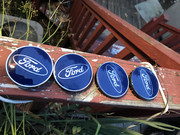 I kind of like the way the new wheels/tires look. I think they look kind of funny on this car with such a tall side wall. As far as rolling resistance goes I was somewhat disappointed to see that over a 50mi trip mostly at 57ish mph my Wh/mi was up in the 290s. I wish I had paid attention to what it has been before switching the tires but vaguely remember getting around 250ish Wh/mi under similar conditions. Hopefully it was just the cooler fall temps and the fact that I was driving into a slight headwind. Oh I do have the tires inflated to 50PSI, they are rated 51psi max.