So I found myself not being able to sleep last night and decided to do some digging.
So according to the document below the max PTC heater temp is 179F and the coolant pump circulates at 17.5L/min
Lesson-3-Cooling-System.pdf
I'm currently looking at the YJH-Q5A 5kW diesel parking heater
YJH-Q5A manual available here
I believe this is the model they are selling on amazon:
In the user questions the seller states that it can heat the water up to 75C (167F). Also the YJH-Q5A manual linked above states a minimum of 400L/h flow rate and the included pump is approximately 900 L/h.
So Far so good:
FFE heater loop max temp = 179F, Flow rate 17.5L/min (1050L/h)
Diesel parking heater max temp = 167F, min Flow = 400L/h nominal pump flow = 900L/h
I think I now have a pretty good idea of how the OEM heater works. looking at some electrical diagrams it appears to have a 40A fuse in the HV junction box (located on the top of the TCM). I would simply pull this fuse and figure out a way to seal up the plug and fake the HV safety circuit that would detect a cut HV wire. This should be simple enough since the safety circuit is just a closed loop. As long as it doesn't see a break in the circuit, there will be no fault. Now if anyone knows where I can get a salvage PTC heater HV wire harness I would greatly appreciate you letting me know. Or better yet where I can buy on of the connectors so I can make my own dummy plug to keep the HV plug clean and corrosion free in case I ever want to go back to using the electric heater.
Digging further into electrical diagrams I found this connector pin out: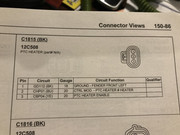 The connector pins show a ground, control mod, and enable. That looks promising I assume the enable is a 12V signal. Not sure what "control mod" means. Although watching the climate power graph on the dash, it does appear that the electric heater isn't simply on/off but can throttle it's heat output. That could be problematic.
Also found this wiring diagram for the low voltage wires on the PTC heater: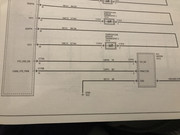 This was a lot more helpful. Yep the enable is a 12V signal as I suspected. Also the "control" wire appears to be a simple pulse with modulation (PMW). Yay this something I actually may be able to work with. I am going to guess it's probably 0-12V or something like that. This is really encouraging as I know the diesel parking heater does throttle between 2.5kW output and 5kW and I believe it does this with PWM! If I end up having to use it's controller it does have a low, medium, and high output setting. Although if I can't get the parking heater to work with he PWM I should be able to plumb in the parking heater's own temp sensors and just set the parking heater to control to a set temperature and just have the diesel heater turn on and off with the 12V enable signal. I'm beginning to think this might actually work!