I found some 15" volvo wheels on Craig's List and have decided to go with an all season tire that has decent snow/wet traction. Falken ZIEX ZE950 in 215/65R15. I reduced rotating mass by 12.5 lbs. as the Volvo wheels/tires weigh 40 lb. 15 oz. vs the OEM wheel/tire at 44 lb. 1 oz. I wouldn't expect this difference to be measurable but it's a step in the right direction. I also have the tires inflated to 51 PSI to minimize rolling resistance. I may back this down a little as the ride is noticeably more harsh. These are 65K mile tires that I will be happy if I get 45K out of considering my heavy right foot and how quickly my last Falken tires wore out. There is about 1/4" to 5/16" clearance between the wheel and caliper.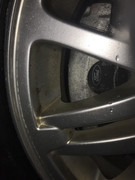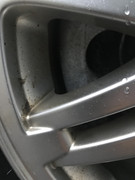 Not the best pictures but you get the idea. I found some cheap 64mm center caps and
OEM looking Ford logo
to replace the Volvo centercaps. I also found
these transformer center cap logos
that I may try to make work even though they are only 56mm. If they don't work I am only out less than $2. Here's more pictures: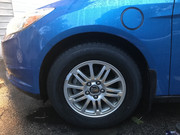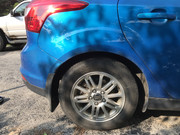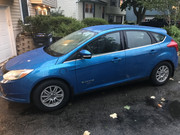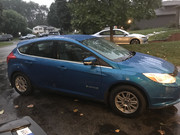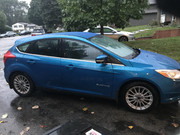 I must have also switched the TPMS in Focccus to use the ABS sensors to detect a flat when I enabled global open/close because I did not get any complaints from the car about not having TPMS sensors in the wheels. These new tires also confirmed what I suspected about the OEM tires. It's not that they are crappy tires it's just the lack of weight up front and instant torque of the motor that makes it so easy to spin the tires on wet pavement. Granted these tires do grip significantly better but I would expect brand new tires to grip much better than half wore out 4.5 year old tires.